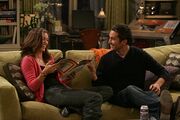 Audrey's Sister is the 9th Episode of Rules of Engagement and the second in season 2. It was initially aired on the 1st October 2007.
When Russell finds out that Audrey's sister, Barbara, is having problems in her marriage, he takes her out - which infuriates Audrey, who is convinced he will use a sleazy trick to try and get her sister to sleep with him
Guest Stars
Edit
It was watched by roughly 10.09 million people
It was directed by Ted Wass and written by Sivert Glarum and Michael Jamin.

Previous Episode Flirting with Disaster
Next Episode Mr Fix-it
Ad blocker interference detected!
Wikia is a free-to-use site that makes money from advertising. We have a modified experience for viewers using ad blockers

Wikia is not accessible if you've made further modifications. Remove the custom ad blocker rule(s) and the page will load as expected.