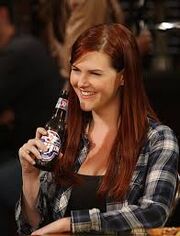 Brenda is Jeff's lesbian softball teammate who agrees to be Audrey and Jeff's surrogate for their baby. Jeff thinks that Brenda only pretends to like him because she genuinely likes Audrey. Jeff gets worried that if Brenda dates, she will want to keep the baby, so he goes on her date with her before Brenda reassures him, and doesn't. Brenda goes into labor on the day of Adam and Jennifer's wedding, and gives birth to a girl called Shea.
Brenda is portrayed by Sara Rue.
Slideshow
Edit
Ad blocker interference detected!
Wikia is a free-to-use site that makes money from advertising. We have a modified experience for viewers using ad blockers

Wikia is not accessible if you've made further modifications. Remove the custom ad blocker rule(s) and the page will load as expected.