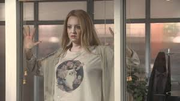 Elizabeth "Liz" Kornblatt is the unlikeable, annoying, unattractive neighbour of Audrey and Jeff as well as friend of Audrey but she is disliked by the rest of the group. In Season 6 she married Russell, but they later separated although everytime he tried to break up with her, he ended up sleeping with her. She shares some similarities with Russell such as when she admits to Russel that she is a sex addict and cheated during their brief marriage. She is portrayed by Wendi McLendon-Covey.
Liz is disliked by most of the group and Audrey is her only friend who tries to boost her self esteem such as when she tells Liz that Jeff said if Audrey died, Liz would be on his top 5 list of people to sleep with which boosts her self esteem and causes her to ask Jeff what attracted him to her. In Season 6, when Russell tries to impress his dad, he gets Liz a makeover which goes wrong so Timmy has to step in and make her look nicer which impresses Russell's dad. Liz is quite good at manipulating Russell for their brief marriage, such as when Russell tries to divorce her, she simply takes off her clothes which Timmy finds amusing.
Spouses Russell Dunbar (ex-husband)
Ad blocker interference detected!
Wikia is a free-to-use site that makes money from advertising. We have a modified experience for viewers using ad blockers

Wikia is not accessible if you've made further modifications. Remove the custom ad blocker rule(s) and the page will load as expected.